The two weeks before any gift giving holiday can be quite stressful, especially for customers who haven't yet picked a gift for a friend or family member. This is especially true of Valentine's Day - an overall minor holiday that carries with it not-so-minor repercussions for those who forget a present for their date - but can be seen before any gifting holiday around the world (even personal days, like birthdays and anniversaries). You could almost argue that it's human nature to leave gift selection to the last minute.
As a Shopify store owner, each of these gift frenzies represents an opportunity for your company to expedite a sale that may have otherwise taken much longer, or never happened at all. However, you'll need to prepare for them, or you'll find that you can't actually accommodate the needs of your procrastinating customers.
#1 Offer Expedited Shipping
Where would you go if you needed a present, fast? You may opt for the local mall and hope that you can find something in person. If you're like many people, you turn to the internet to explore all of your options, but check shipping speeds of stores before even looking at their catalog. Afterall, can anyone really calculate how much value a gift loses when it's late and puts a damper on the day?
We recommend ShipStation, a web based solution (that means nothing to install) that integrates into your Shopify store and allows you to send directly with USPS, UPS, FedEx, DHL, Canada Post, and more. They even allow you to ship through Amazon's fulfillment center, which is both highly effective and may give some Shopify owners a satisfying sense of victory over the e-commerce Goliath. 
Our favorite part in this context? You can set up ShipStation in minutes, which means that even if you procrastinate as much as your customers, you can still get the most out of each holiday!
#2 Offer Payment Options
Does your store sell gifts that require significant investment? If you offer fine jewelry, vehicles, high quality leather goods or clothing, or even purebred pets, it's likely that there are many customers out there who would love to show up with your product as a gift, but can't afford it. The right payment plan could change that.
Try out Sezzle, a Shopify store plugin that allows you to offer payment plans that take the strain off of your customers' when they want to impress. They break up payments into 4 installments dispersed over six weeks, with 0% APR. Help your customers actually pull off the big Valentine's Day proposal or winter getaway, and they'll be more likely to choose your store.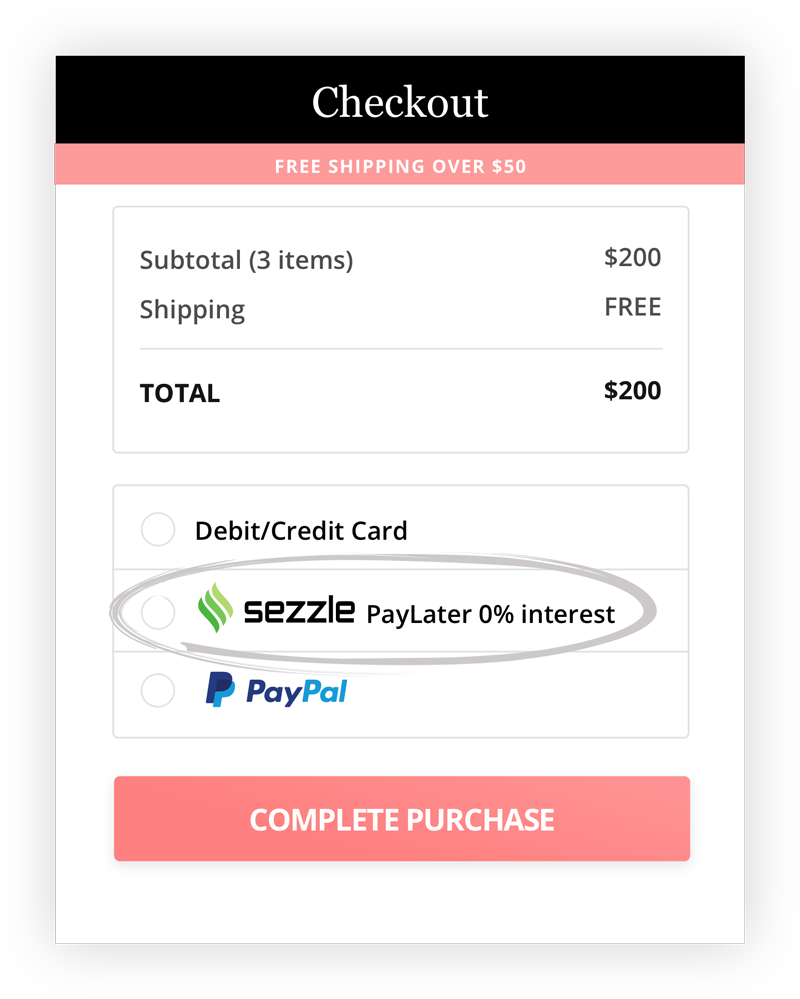 #3 Be Mobile Friendly
Did you know that up to 41% of your shoppers are making purchases from their smartphones? If you're waiting for a sign that it's time to take the plunge to mobile compatibility, that was it.
Ideally, your company will invest in a custom design to ensure that your entire Shopify store is completely functional and effective - however, that does take time. If you're looking for a solution that will get your store working on smartphones quickly, check out solutions like TapCart. This tool automatically converts your store into a native app for iPhone users, and even includes push notifications, auto-populating carts, and Apple Cart support.
If most of your customers are Android users (this is likely if your users are located outside of the US), or if you're looking for a no-frills, free solution, try Mobile Converter by Beeketing. This tool is straightforward and can be a great temporary solution to cover your Shopify store during an upcoming holiday season.
#4 Boost Your Advertising & Promotions
Now that you're ready to accommodate the last minute shoppers, there's just one more step - make sure they know that you're ready for them! According to recent research by Google, 50% of holiday shoppers are open to purchasing to new retailers, and 64% of shoppers turn to mobile search to find gift ideas, so focus on advertising and promotions that will reach those on small screens.
Not sure what to put in your advertising? Consider pairing it with a great promotion or flash sale! We love the new Shopify Plus app, Launchpad, which enables you to automate the whole experience. This tool has so many capabilities we actually wrote an entire article about it recently!
#5 Trigger Their FOMO With Timely UX Tweaks
Why is it that we get more done when we have a rapidly approaching deadline? While we're designers and brand builders, not psychologists, the impact of multiple deadlines can't be denied. They're so effective that even non-profits like Kiva use them to motivate people to apply for their assistance!
Drive sales year-round by tweaking your UX for upcoming holidays - this could mean a new landing page, but a simple countdown ticker added to your website can be incredibly effective on its own! We like POWr.io's countdown timer, which can be customized for any date and is eye catching without being distracting or getting in the way of the rest of your store. Want to get the most out of a timer? Set it for the last day a customer can shop for a holiday and get their package on time!
If you follow these five steps, you can be up and running in time to win over any last-minute shopper this Valentine's day and beyond - and all of these tools can be installed in a single afternoon! What are you waiting for?